Tanah Rata, Cameron Highlands, is the biggest of the Cameronian towns. Comprising a row or two of shop houses along the main road. One can find many eateries, English café wannabees, banks, government office, grocery stores, from the budget accommodations to the more comfortable but pricier hotels.
Tanah Rata literally means 'flat land', was so named because of gentle slopes and plateau land. Tanah Rata is relatively flat in comparison with the other tourist town of Brinchang. There is quite a lot of development going on around here and if you return a few years later you will find some new additions to the town.
You can move around the town quite easily on foot as it is not such a big place. I myself have walked up and down the whole place exploring the area without much of a problem. The weather is nice to explore around the place and you actually don't quite really need a map of the area. Good excuse for me to avoid drawing a map for you guys, I'm just not good at using Adobe Illustrator and using Microsoft Paint was more like Microsoft Pain. If you really need one just pop in over to your friendly neighbourhood bookstore and get one inexpensively.
Convent School Tanah Rata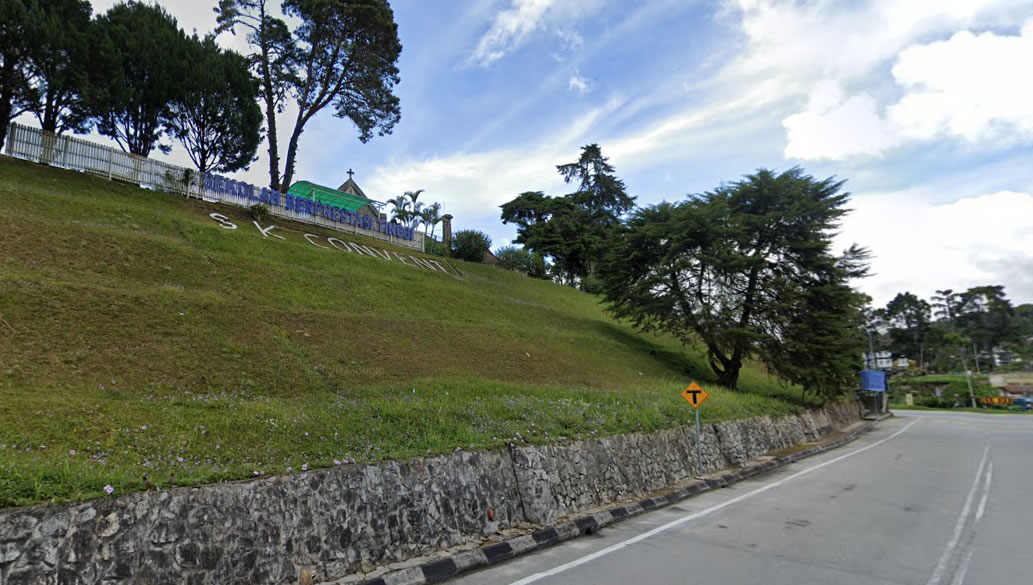 Overlooking the town is the old Roman Catholic Convent School, which can be easily seen atop a hill by standing on the main street facing towards the west. Next to it, is the Tudor styled Heritage Hotel. In keeping with the theme of Tudor style architecture, all new buildings thus constructed bear the same Tudor style. Greenhill Apartments is also located here and one of my church, Grace Assembly favourite place to hold up for church camp every year!
There are several souvenirs shops selling the usual Cameron Highlands keepsake items. There is the Yung Seng Souvenir Shop which is more upmarket than the others. It has quite an interesting selection of Orang Asli crafts and woodcarvings. You can also purchase the Orang Asli blowpipes with its darts (minus the poison of course!) and try your hand at shooting it with your forceful breath exhalation! It is not easy! Imagine the Orang Asli still hunts for their meal with this contraption even today! As for me, my favourite souvenir has been the fridge magnet which I have collected from my various travels, perhaps if you are like me; do get one of those thingy to stick onto your refrigerator!
Enjoy Local Teh Tarik
One of Malaysians favorite pastime of drinking teh tarik (lit. "pulled tea") and eating roti chanai (Indian bread) dip in curry sauce, sitting in the open fresh air, applies equally here in Cameron Highlands as per anywhere in Malaysia with one exception; the air is cooler here and you can sit around all day long! Even into the wee hours of the night, locals still enjoy a cup of teh tarik while gathered together with friends yakking away just about anything under sun (or moon, if nighttime)! If only they have WIFI just like the local bistro, wouldn't that make it complete! You can then surf and browse my Cameron.com.my web site to check up the details for your trip planning! And while you are at it, do sign up for my irregular Newsletter, no?
Not to forget, with the entrance stairs tuck away in an alley, is the cozy Roselane Café, located on the first floor above the Marrybrown fast food shop. It has a warm and friendly atmosphere with a very wide and inexpensive choice of food selection. Recommended visit for a meal, or maybe two!
There is a taxi station located further east of the town, where you can get your ride around Cameron if you are in need of transportation. And for those who use bus coach for traveling, the bus terminal is conveniently located here; easy access to all the hotels accommodation around town and other amenities.
Police Station located here
Further on to the east, you will reach the government medical clinic and the Police station. Facing opposite is the Tanah Rata garden and playground. Good place for hyperactive children to run about while the parent relaxes and supervise the children's activities!
The road along the park will lead you on to one of the jungle trails leading towards the Robinson Waterfalls. There are several other trails from Tanah Rata. To find out where they start from, do get a map. I'm not that good in drawing it out!
During the night, plenty of food choices available, ranging from the delicious Chinese dish, the ever popular steamboat. Western dishes are available too. Do check out my Cameron-Highland-Destination.com eateries section to find out what are the choices available. But as for me I would prefer to go for the Chinese dishes usually. Western dishes here are rather average in taste unless you don't mind paying for it I'll show you a few good ones. For more spicy variety you could go for Indian rice and curry dishes.
And after gorging yourself with a sumptuous meal, there is not much of a night activity except maybe the night market if available or head on over to some hotel for a drink or two in their English styled bars.