Don't have a car? Looks like you will have to take a coach bus to your Cameron Highlands travel destinations and vice-versa! Well, I have compiled a list of bus schedules in this page from various sources. Using bus coaches is quite convenient as compared to using train services. It takes you directly from the city centre directly to Tanah Rata. Using a bus to travel to your destination though limits the amount of personal items you can carry up to Cameron Highlands and of course, less souvenir items to bring back, which could be a good thing though! Less clutter in the house!
Buses connect to all the major cities in Malaysia: Kuala Lumpur, Ipoh, Penang, and also to Singapore. Schedule listed here is a guide only, and you should check it up with the bus operator or at their sales counter for more detailed information. Advance booking may be necessary during peak period in order to get a seat.
Bus Transportation and Schedule:
Kuala Lumpur -> Cameron Highlands
Kurnia Bistari Coaches
Ticketing Counter #39 at Puduraya Central Bus Station, KL.
Tel: +603-2031 8307
Price: RM17.30, RM22.00 (VIP Bus)
Approximate travel time: 5 hours
Departure time KL: 9am, 10:30am, 12:30pm, 1:30pm, 3:30pm
Departure time CH: 8:00am, 9:00am, 10:30am, 1:30pm. 4:30pm
Unititi Express Service
Ticketing Counter #66 at Puduraya Central Bus Station, KL.
Tel: +605-4911452 / +605-4914181 / +6012-2150044 Price: Approx. RM22.00 (VIP Bus)
Departure time KL: 8:30am, 1:30pm
Departure time CH: 8:30am, 1:30pm
Singapore — Cameron Highlands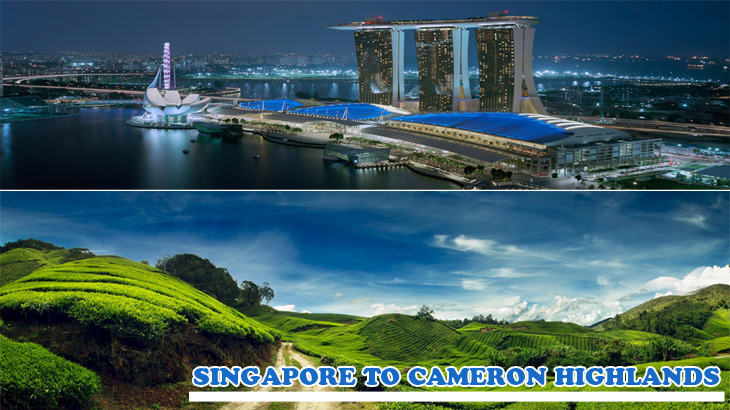 Alisan (S) Pte Ltd
The coach will stop at Tapah, and you will have to transfer to a minivan which will take you up to Cameron Highlands. You will need to let the driver know where you like to stop at Cameron Highlands.
Daily Departure at 10pm from Golden Mile Complex, Beach Road.
Tel: +65-6294 4772
Price: Weekday (Sun-Thurs) S$85 per person
Weekend (Fri-Sun) S$95 per person
Peak Periods S$105 per person
Daily one way rates S$45
VIP Coach
From Golden Mile Complex, Beach Road to Tanah Rata Bus Station.
Tel: +65-6294 9306
Departure: 10pm
Daily rate: S$33
Others
These buses travel from Singapore to Cameron Highlands via Kuala Lumpur.
Transnational Sdn Bhd
Tel: +603-20703300 (KL), +65-62947034 (S'pore)
Plus Liner Sdn Bhd
Tel: +603-20720763 (KL), +65-62565755 (S'pore)
Supercoach Sdn Bhd
Tel: +603-20708001 (KL), +65-62947711 (S'pore)
Sri Maju Sdn Bhd
Tel: +603-20701279 (KL)
Konsortium Sdn Bhd
Tel: +603-20313036 (KL)
Bus Terminal Puduraya
Tel: +603-20700145
Some buses depart from Lavender Street, Singapore and some from Golden Mile Complex. Rates are approx S$30+. Please check with the buses companies for current fares and schedule. Approximate 6 hours travel time.
The Bus Terminal Freesia at Tanah Rata
There is a new RM3.9 million Bus Terminal Freesia located in Tanah Rata, Cameron Highlands just recently opened to the public on the 29 December, 2005. The terminal was built not only as a bus terminal but has a taxi stand on the ground floor with offices and free car parking space on the upper floors.
New is good right? Not really, due to space constraint for the construction of the terminal, the ramps are steep and the bends are narrow and tight with hardly enough room to maneuver.
"Motorist must slow down when driving along the ramps at the new three-storey bus terminal building in Tanah Rata, Cameron Highlands." Adviced by Cameron Highlands district council secretary Mohd Pauzi Abu Hussaini, who did admit that the bends along the rams were quite narrow. But still commented that the design "was okay and no different from what you see at some hotels and buildings in Kuala Lumpur".
Really? Those buildings and hotels that had narrow ramps and tight bends I simply just avoid going in to park because they are such a hassle to attempt negotiating the tight bends. One has to be very careful and very patient to turn every corner, especially big cars and MPVs. They would have the toughest time rounding every bend. Evidence of car scraping against the wall could be seen at those places, and I'm sure the Terminal Freesia will have its fair share of "car graffiti" on its walls.
Already it seems that "a motorist scraped his Mercedes Benz against the wall while attempting to negotiate a bend," commented a local resident. And some resident consider the terminal a failure as both the buses and cars had difficulty using the terminal.
Despite all the shortcomings, two bus companies will be moving in the terminal. Maybe others will eventually move in too as the old bus stand is very old. Well time will tell whether the new terminal will be fully utilized.
Recently, I got a good sneak peak at this bus terminal. It is sad to say that the upper floors are totally abandon and unused. Since no one dares to drive up the narrow ramp, they have cordon off the entrance. I saw a sign which was suppose to lead to an office for tours, but the office was just not there. What a waste of resources from bad planning. Now this building just sits there looking pretty with nothing much to do. Though the ground is being utilized by some bus company, on the whole, the building is just a white elephant.
Perhaps they could convert the parking area into an extreme sport center or convert it into a sport complex? Well, we'll see how smart the authorities are or perhaps some enterprising entrepreneur might go do something about it.